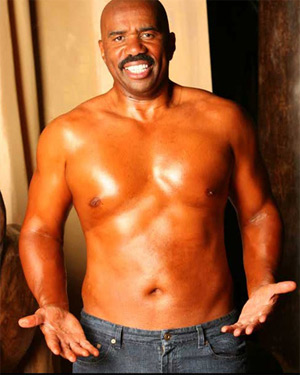 well i didn't say it!
steve harvey did.
on his talk show as a matter of fact.
the question to him from an older snow bunny was:
"i am not a history buff,
but the people around me are.
how do escape conversations about history that go over my head?"
in a nutshell.
well this is what he replied to her…

.
.
.
.
.
.
.
.
.
.
.
.
.
.
.
.
…if that is not the most IGNORANT statement to tell someone.
the fact she said:
"omg thats awesome…"
the fact i saw a black hand clapping was also disturbing.
i know she didn't ask me,
but i'll answer it correctly for our poor steve.
how about she say:
"well i'm not big in history topics,
but i am listening and taking mental notes as you all discuss.
i find this conversation very interesting and learning a lot."
you could be thinking about a monkey taking a dump.
it takes charisma to pull that off tho.
in my honest opinion,
there is a level of IGNORANCE that makes say/do something steve suggested.
she sounds passive aggressive and he sounds like a dumb ass.
how about listen in and maybe learn something?
just stand there and smile.
wait for the subject to shift and then walk away if you have too.
now there are 5 topics that get people in there feelings:
politics
religion
(black) history
skin color
sexuality and the down low
if you know you are not skilled in those areas of discussion,
and you don't want to give an opinion,
just smile and say:
"i don't really have an opinion on this topic,
but i'm listening from the sidelines.
*insert laugh*
this is a very interesting conversation tho."
thats it.
you look better that way.
lowkey: i wonder if he will try that same method when asked about the holocaust?
ya know,
in front of his jewish bosses.
smh.